Wear and tear on our joints can result in injuries, which can leave our joints feeling sore. Don't fret. Not all joint pain is a sign of underlying disease. In some cases, overuse, such as heavy physical ... activity or sprains sometimes associated with lack of use can result in joint pain
Joint pain can affect any joint in the body, but the most commonly affected joints are the knees.1 From inflammation due to injury, we'll walk you through a range of information about joint pain, joint pain symptoms, and joint pain causes so you can find relief, and get back to walking, hugging, standing, sitting, opening, closing, and just plain living without muscle or joint pain getting in your way.
Read More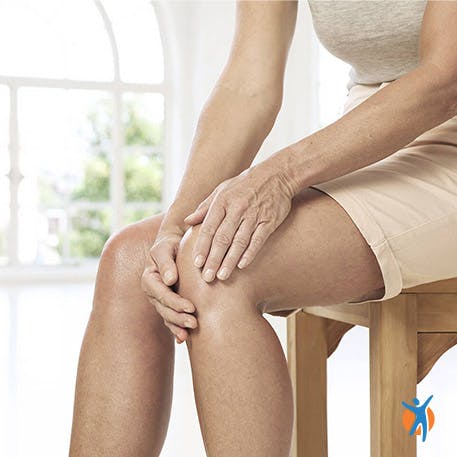 Some symptoms of joint pain are more worrisome than others and should be assessed by a doctor, while others can be safely treated at home.
It is important to know what is causing your joint pain before you self-treat. If you are experiencing joint pain and don't know why, see your doctor.
Just about any joint in the body can be affected by joint pain. However, quite often joint pain strikes in the knees, ankles and shoulders. Knee pain is the most common form of joint pain due to injury.3 This is largely because we put a lot of strain on our knees when we put our full bodyweight on them as we move from place to place throughout the day, every day.
Causes of joint pain
Joints form connections between our bones and allow us to move. A number of conditions can cause joint pain. Voltaren's over the counter products available without a perscription cannot treat all of these conditions. These... include: strains or sprains, inflammation of the joint lining after injury.
It's good to be aware of them so you can talk to your doctor or healthcare professional about them.
Strains or sprains
Joint pain is often a result of injury. An accident like a fall can cause torn ligaments or ruptured tendons, which usually cause sudden and severe pain perhaps with a popping or snapping sound; and require immediate medical attention. Overuse can cause tendonitis (e.g. tennis elbow) which can present as pain in a joint tendon, that gets worse when you move: or difficulty moving, accompanied by swelling or heat. Mild tendonitis can be treated with the help of your pharmacist, with anti-inflammatories such as Voltaren gels, or with the RICE methodology4. Sometimes banging or twisting a joint the wrong way can even result in damage to the cartilage in the joint, or even bleeding into the joint space. Such injuries are characterized by swelling, redness, bruising, and stiffness following an injury.5 If you are experiencing any of these symptoms, you should seek immediate medical attention.
Inflammation of the joint lining
All of our joints are protected by a thin layer of tissue called synovium. When a joint is injured, the synovium can become inflamed, which causes soreness and swelling (inflammation). This usually happens shortly after you've injured your joint. Inflammation of the joint lining does not cause redness or heat and can generally be managed at home with rest and anti-inflammatories.6
Diagnosing joint pain
Visit your doctor for a joint pain diagnosis. It's a good idea to prepare for your doctor's appointment and know what to expect. During your visit, your doctor may:
Ask about your medical history

Give you a physical exam

Draw blood for a laboratory test

X-ray your affected joints
Read More
Explore Voltaren's products for pain relief

Health, wellness & your pain
Pain is rarely just physical nor is it always solved by taking medicine alone. Voltaren is your ally in helping you take more control of your pain journey, from the way to sleep, to what you eat, mental wellbeing and complementary pain relief therapies.