Wondering how to relieve your muscle and joint pain due to an injury? Pain treatment is likely at the top of your list of important things to read up on. We use our joints everyday, all day. That's why muscle and joint pain due to an injury can feel so present in our lives. But don't let that stop you from doing the things that make you - you. Learn about the available joint pain treatments so that you can put together a plan to start feeling... a little more like yourself again and get back to the movement you love.
There are a number of reason you may be experiencing joint pain, including tendonitis (e.g tennis elbow), or even common strains and sprains that occur in day to day life or sports injuries! We've outlined many different remedies and treatments for joint pain relief that with your health care professional can help get you on track to regaining your joy of movement. Always read the label to check if your joint pain cause is covered by our Voltaren products!
Read More
Home remedies for joint pain
Once you have ruled out the need for immediate medical attention, you may want to consider a number of home remedies for joint pain treatment. Home remedies can be straightforward easy (we love easy!) and effective (we love effective, too!) ways to get joint pain relief so that you can get going again.
For short-term relief of joint pain, try out an at-home method like PRICE.
PRICE stands for:
Protect the joint - Use a brace or wrap to protect the joint while it recovers

Rest the joint - Resting the joint will give it time to repair on its own. Continued usage can aggravate the joint, making recovery longer.

Ice the joint - Applying ice to the joint can reduce inflammation. Just be sure to wrap your ice pack in a towel before applying it. Placing a bare ice pack directly to your skin is not advisable.

Compress the joint - Compress the joint using an elastic wrap.

Elevate the joint - Elevate the joint above the level of your heart.
If you experience joint pain, your natural instinct may be to keep still and stop moving – especially when it hurts to do so. However, keeping moving is key for promoting joint mobility and function and treating your pain can help with this. The United States' Center for Disease Control recommends 150 minutes of weekly exercise as the sweet spot for maintaining joint health in some conditions.1 Added bonus: moving more can boost your mood, always a plus! So lace up your trainers and head out for a walk.
A key tip for how to relieve joint pain is diet. Maintaining a healthy weight is really important to reduce stress on your joints – especially weight bearing joints, like your knees.
Topical medication that you apply to the skin
Topical medications can come in the form of cream or gel that you apply to the skin. Voltaren gels relieve muscle and joint pain with a clinically proven NSAID.
Medication taken orally
Anti-inflammatory medications like ibuprofen taken oraly in pill or capsule form can ... be effective pain relievers, as can painkillers like acetaminophen.
Read More
Medicated patches
Medicated patches are single-use patches that contain an active ingredient that releases over time, applied directly to the skin.
Heat patches
Heat patches are worn on the skin over the affected area in order to keep your muscles relaxed and loose for speedier recovery.
If you are struggling to cope with and manage your joint and muscle pain, then you should visit your doctor.
Voltaren gels for joint pain relief
You can use Voltaren Emulgel for your joints, so you can get back to doing the things you love. Voltaren pain relief gels are designed to beat pain by acting with a dual effect on your pain by:
Relieving pain associated with recent, localized joint or muscle injuries

Fighting inflammation
How does Voltaren Emulgel work to relieve joint pain?
Voltaren gels work by delivering diclofenac, a non-steroidal anti-inflammatory drug (NSAID), right to the root of your pain. Diclofenac works by relieving pain and reducing inflammation at their source.
After applying Voltaren gel the Emulgel technology included in all our gels aides our clinically proven NSAID (Diclofenac) to permeate the skin... and penetrate directly to the area affected by inflammation. The diclofenac helps block the production of some of your body's neurotransmitters that cause the feeling of pain, tenderness and inflammation.
Read More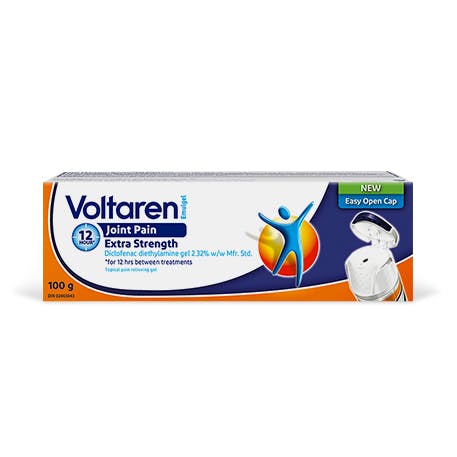 How to use Voltaren Emulgel to relieve joint pain
We believe joint pain relief shouldn't be a pain, follow these simple steps to relieve joint and muscle pain with Voltaren gel:
Open your tube of Voltaren:

Before first use, unscrew and remove the cap. Use the reverse side of the cap to remove the seal from the tube.

Squeeze out a small amount.

Gently rub into the skin above where you are experiencing pain.

Apply Voltaren gel as often as the label says.

Regain your joy of movement. Feel better.
How to use
Voltaren Emulgel Joint Pain Extra Strength
For adults between 18 to 65 years:
Apply gel 2 times a day. The amount of gel applied (2 g for each application) should be measured using the dosing card supplied in the product carton. For each application the gel should be squeezed from the tube and measured up to the 2 g line on the dosing card. Do not use more than 4 g per day.
Voltaren Emulgel Joint Pain Regular Strength
For individuals 16+:
Apply gel 3 to 4 times a day on the affected area. The amount needed will vary depending upon the size of the painful or swollen area: 2 g to 4 g (1 g equals a strip approximately 2 cm long) gel will be sufficient to cover a 400 to 800 cm2 area. Do not use more than 4 times in 24 hours
For full directions on use, please consult the dosing card provided in the product package.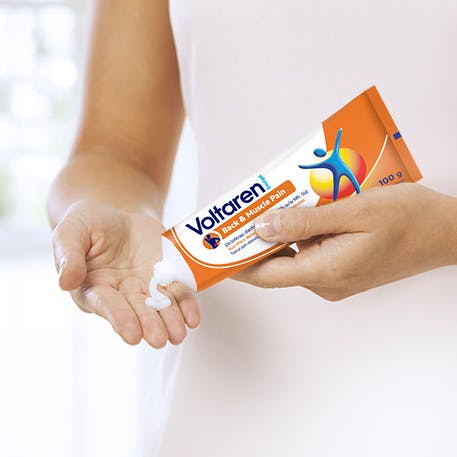 How much Voltaren gel to apply to relieve joint pain
The amount needed will vary depending upon the size of the painful or inflammed area. For Regular strength products, 2g to 4g (1g equals a strip approximately 2cm long) of gel will be sufficient to cover a 400cm to 800cm2 area. For Extra Strength products, 2g of gel measured using the provided dosing card found in the product package will be sufficient.
Other options for joint pain relief
Once you have explored your medication and home remedies for joint pain, you may want to seek medical advice from an expert.
Physical therapy
Physical therapy can help increase your range of motion by strengthening, loosening and warming up the muscles surrounding your affected joints. A physical therapist will work together with you to tailor you a series of stretching and strengthening exercises just for you.
Explore Voltaren's products for pain relief

Health, wellness & your pain
Pain is rarely just physical nor is it always solved by taking medicine alone. Voltaren is your ally in helping you take more control of your pain journey, from the way to sleep, to what you eat, mental wellbeing and complementary pain relief therapies.